VIP Experiences at Bricklane
Hello all Chatora people,
I know it's been a while that I have been away from my blog. But, I never refrain myself from hogging around and discovering places. Continuing my culinary journey in the IT capital of India this time I got a chance to explore Bricklane Grill, Escape Hotel & Spa.
A day off from work with no alarm clock and whining around was a much needed break for me. Added to this my super cool friends Jeeshan and Pranav to ping me for lunch. So, I was invited to Bricklane Grill, by Vip tables to explore a specially curated menu.
Firstly, I literally curse myself that I have visited The Black Rabbit so many times but why on earth I never rolled up my eyes to have a glance of this beautiful place? My Bad! But then, it's the VIP tables who actually thought that I should make a visit to Bricklane.
This astonishing place is holed up at 100ft Road on Indiranagar. The moment I entered this place, I was drawn away by its Interiors. The most eye catching part was "All whites"! This place takes all the possible high score when it comes to Perfect ambiance and alfresco dinning to enjoy the lush greenery and the amazing Bangalore breeze. European décor with white walls, plain white furniture, wrought iron grills and Victorian Lamps. The place is absolutely beautiful and I just fell in love with the ambiance.
I was starving and sadly arrived late for lunch, thanks to the Bangalore Traffic that never fails to amaze me. It was time to finally start my culinary journey at Bricklane.
Soup Time!
White bean cappuccino and Toasted Garlic Bread

My lunch started with a delightful soup. White bean cappuccino accompanied with Toasted Garlic Bread.
Looked absolutely stunning and was piping hot. I loved the textures consisting of very finely chopped vegetables, Olive, mushrooms and loads of cream. The Garlic Bread complimented well with Creamy Cappuccino.
Veg Tabouleh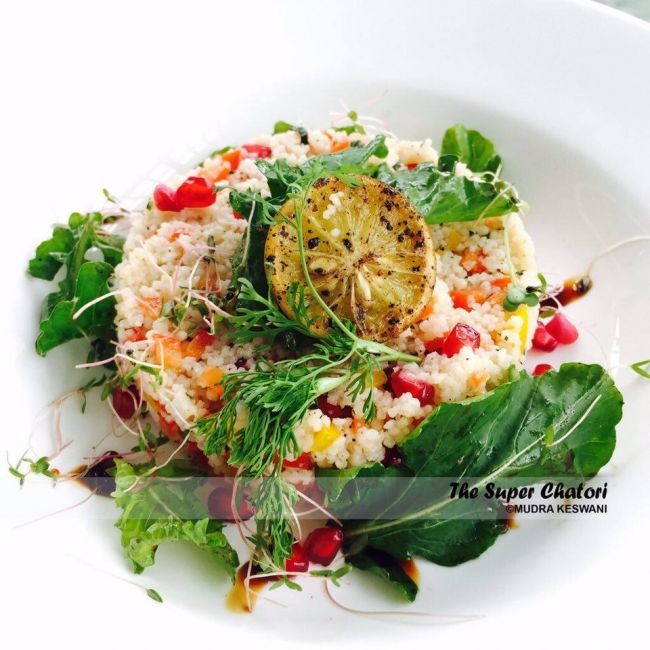 Traditional Middle Eastern tabbouleh is more about the mint and herbs than the bulgur grains. The way it was presented was pretty amazing. The best part about this was it was not like those boring green salads. The colorful ingredients like pomegranate, carrots, lemon, Coriander not only made it look appealing but it was also very refreshing. Worth a try‼
Spicy Crisp Lotus Stem

Being a sindhi, I have always loved Lotus Stem. As soon as it was served on the table I just had a smile on my face because it's been a while that I didn't have Lotus stem. Absolutely crisp with Honey and Chili making an amazing start of my lunch at Bricklane. I couldn't stop munching. Plus points for the crispiness.
Veg Mezze Platter

Mezze Platter being my favorite is ordered very often whenever I got out with my friends. Luckily, this was on the menu. 🙂
The Mezze platter consisting of Hummus, Moutabel, Labneh, Beet Tzatziki, Marinated Olives and Lavash.
I have been a great fan of Mezze Platter, Moutabel & Beetroot Tzatziki having a soft corner in my heart. The platter was good. Size was appropriate but overall it could have been a lil better. But, I loved hummus and Labneh dips. The consistency of both the dips were perfect.
Indian Spice Rubbed Portobello Mushroom, Kadai Paneer

Well, to start off, plus points for presentation. It's these lil things that actually tempt you more to try out different cuisines. Being a vegetarian I know I have less options and Mushroom and Panner both being my favorite came in a package. Portobello Mushroom, is an extremely large, dark brown mushroom that is simply the fully mature form of the crimino, which in turn is a variation of the common cultivated white mushroom. Paneer was absolutely soft and fresh. Gravy had very strong flavors of the spices with made it delightful and blended well with both Mushrooms and Panner. Overall it was made to perfection. It was accompanied with Kulcha (Indian Bread). Finding such ambrosial dishes is Bangalore added to this is the perfect ambiance is a cherry on the cake.
Kuch Meetha hojaye!
My luching session can never be complete without the desserts and yes I always have extra space in my tummy for this. 🙂
Mango & Basil Panncotta


Who said there is a separate season for Mangoes? I don't really believe the fact after having this cute looking and luscious dessert. Finely Sliced Alphonso Mangoes to blend well with the mouse and best part was the consistency. Absolutely Perfect!!
Chocolate Mud Pot

This came in an actual hemispherical mud pot with chocolate soil and mint leaves, the soil appeared to be a real one. Presentation was absolutely stunning. The pot was made of chocolate which was frizzed. This could be cracked and eaten later. The chocolate soil and white cream was combination with nuts and crumbled biscuits. This particular dessert was the show stopper. I was full but I wished I could have more of it. A perfect ending to my lunch was this Chocolate Mud Pot which is a Must Try Dessert at Bricklane Grill.
I absolutely loved dining at Bricklane grill and enjoyed my lunch.Thanks to the VIP Table & Bricklane for an actual VIP Experience. A specially curated menu for the guests is something innovative and incredible. Make sure you check out this place for a breath taking experience.
Book your table here: https://www.viptable.in
Time for the results!
What's so hot?
White bean cappuccino and Toasted Garlic Bread
What's chilled?
Chocolate Mud Pot
What's a Must Try Dish?
Indian Spice Rubbed Portobello Mushroom, Kadai Paneer & Veg Tabouleh
THE CHATORI METER: 4.5/5
Well Deserved!
Coming to an end of my gastronomical journey at Bricklane Grill, Escape Hotel & Spa, I would like to Thank a few people who made it possible made sure that I enjoyed the whole experience.
Jeeshan & Pranav from VIP Tables
Gaev, GM, Escape Hotel & Spa. Thank you for dinning with me and being an amazing host. Ranveer & Manasa, Escape & Spa: Thank You for inviting me.
I was mesmerized by the whole experience and would highly recommend this place.
I hope you all liked my post. Do drop in your feedback in the comment box.
Thank You in anticipation.
Happy Hogging!! 🙂
Connect with me:
Instagram: @thesuperchatori
Twitter: @Mudrakeswani
Zomato: @Mudra
My Blogs:

1 Comment
Deepak Hingorani

December 11, 2015 (8:29 pm)

The veg tabouleh and spicy crispy lotus stem seem absolutely mouth watering. Would definitely like to visit Bricklane next time I am in Bengaluru. Thanks for updating the desserts menu which I can never resist. The mango panncotta dessert seems delectable. Great blogging ???