Swaad Ambarsar Da!
Sat Sri Akaal my fellow chatoras,
You must be thinking, again this girl must be up with a Marriott food festival (Facepalm). Well, yes I am! What to do if these people are so determined to put forth so many astonishing delicacies on the table every now and then? Again, Blame them and not me for I am just doing my job of judging the food and not complaining about it! 😛
This time Courtyard by Marriott, Bhopal takes me to "Ghee" filled journey. Oh!! I'm talking about Punjab. No, punjabi food is complete without the usage of ghee or butter and therefore it's a ghee-pradesh.
I personally adore Punjabi Food, maybe because I come from a family which has a hint of Punjabi influence. But, Courtyard by Marriott, Bhopal took me to the Pinds of north. The food served at the dhabas on the highway is not too far.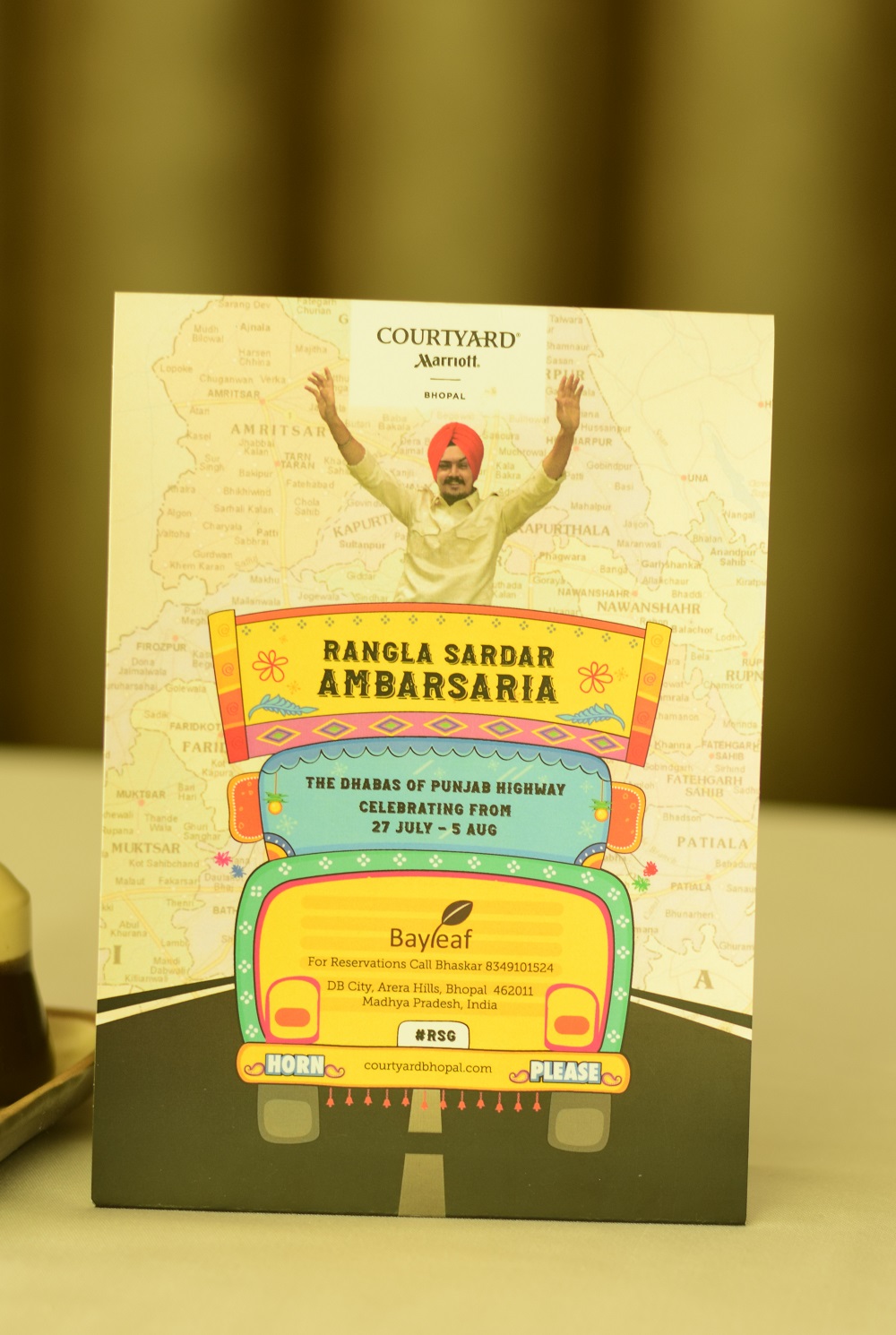 So, chak de phatte nap de killi subah jalandhar te shaam dilli!!
Punjabi cuisine offers a vast variety of scrumptious and exotic dishes that are prepared with various traditional culinary styles, not to forget the tandoor. The food is wholesome and full of rustic flavours. The custom of cooking in tandoor prevails even today. The most unique thing about cooking in a tandoor, is the smoky flavour that the food gets, making it tastier. The interesting and enticing tandoor items and a variety of other delectable and finger licking dishes having rich, spicy and buttery flavour.
Bay Leaf at Courtyard by Marriott, Bhopal has always been a melting pot of culinary delights and if there is one thing it can promise you, is an outstanding culinary experience every time. To take this experience to better heights, the restaurant has come up with, "Rangla Sardar Ambarsaria – The Dhabas of Punjab Highway Food Festival."
The restaurant is decked up in proper Highway Dhaba style. Entrance is welcoming with highway signboards and lanterns. Inside, the team is dressed up in punjabi attire. The seating, platting and music will set your mood right to savour some authentic Punjabi delights.








Chef Gurpreet, who is known as the Mast Sardar because of his jolly nature, is famous for his zest of cooking punjabi food. He says, " Amritsar is known for food, it's one of those cities which is very lively and flamboyant due to the cuisine, its availability, and the eating habits of the people." He mentions that he started his career cooking at his Uncle's Dhaba and that's what he's going to present in this food festival as well.


A refreshing glass of lassi in an earthen pot arrives to welcome me along with the sound of Dhol and Bhangra Dance.

Soya Malai Chap: A succulent velvety blend. Soya Malai Chaap is a rich North Indian dish made with soya chaap. The Soya Chaap, cooked with creamy and mildly spicy flavourful marination which is made with rich malai. A protein rich healthy constituent and has a very similar taste to that of Chicken.

Makai Malai Da Kebab: Flavourful crispy kebabs cooked with Corn Kernel or Makai with an inside stuffing of cream cheese and fresh mint topped with Imly & fresh mint chilli chutney. Absolutely lip-smacking!

Paneer Tikka Masala: A splendid and exotic dish with exceptional flavours, engulfed into the marinated paneer cubes, onions and capsicum. I felt, Paneer tikka masala was pretty average this time as I've had a better one during the last food festival "Dilli ki Sham."



Baingain Bharta: Roasted, peeled and mashed, the brinjals transform into an aromatic ingredient when cooked directly over the flame till the skin is charred, peeled off and combined with a fine blend of spices, garlic, tomatoes and some ghee crafts this brilliant creation.
Pipey Te Choley with Amritsari Kulcha: This dish needs no description. Choley cooked so brilliantly with indian spices and ghee. My mom makes exactly the same kind of choley and therefore I enjoyed it even more. The only difference was that this Pipey te choley were cooked without Onion and Garlic and was a playful mix of Indian spices while my mom adds everything. 😛 Also, the amritsari kulcha was out of this world. Topped with a scoop of fresh white butter, Oh my god! Got some real feel of dinning in Punjab.
Maa Choliya Di Daal: Maa ki dal , flavoured with tangy tomatoes, curd and cream giving it a rich feel. Traditionally this dal is simmered all night long to get the unique flavour. Topped with loads of Ghee.
(My mouth is already watering while writing this)
Mattar Pulav: The rich taste of ghee in basmati cooked rice and the mind-blowing aroma of whole spices makes this dish a really mouth-watering one. I paired it with Dal and it tasted fabulous.

No Punjabi food is complete without desserts . Here comes the time when Chef Reddy takes the charge to entice the taste buds. It's time for kuch meetha hojaye!!

Gudd Da Paratha: This was one particular dish that, I was looking forward to since the time I stepped in.
In sindhi's too we have this dessert that is relished during winters and I have this extreme love for Gud (Jaggery). Jaggery crushed and stuffed in a paratha along with ghee and cooked on a tawa, making the jaggery melt and the time it goes into your mouth, it hits straight to the point (Heart). I loved the way it was presented. How easily a classic desi dish can be given an international touch is what amazes me every time. Chef Reddy and his team knows there job well. 🙂 A small stroke what you see in the picture is of rabbdi and a small dot shaped creamy scoop is fresh white butter. Relish this paratha with both of them.

Pinni: Typical Punjabi dessert, Pinni is made up of wheat flour, ghee, sugar, crushed cardamon and shaped into balls. An absolute delight that proved to be a fitting conclusion to an amazing dining experience.
(P.S. Now you know, Punjabiyaan di battery charge kaise rehndi hai)

The Amritsari food festival is a perfect incorporation of food served at the Dhabas of Punjab Highway. Food so good and rich that it'll leave you mesmerised and Burping. All in all, it was a splendid experience coupled with warm and impeccable service. A great opportunity for the food lovers of Bhopal, if you wish to splurge on authentic Punjabi delicacies head to Bay Leaf today! 😀
Till then, Happy Hogging!
Thank you Anmol & Mr. Ravindra Soni for the invite. 🙂
Thank you Mr. Girish, Chef Ravinder, Chef Reddy, Chef Gurpreet, Mr. Alok, Bhaskar, Soumya & team for an exceptional culinary experience.
P.S. The author was invited and the reviews are personal.
Tastes are subjective and may differ from person to person.
Food Festival: Amritsari Food Festival
Restaurant: Bay Leaf, Courtyard by Marriott, Bhopal
Address: DB City, Arera Hills.
Date: 27th July to 5th August 2017
Timing: 1900-2330 Hours
Valet Parking: Available
For Reservations Call: Bhaskar – 8349101524
Connect with me on Social Media:
Facebook: https://www.facebook.com/TheSuperChatori
Twitter: @mudrakeswani
Instagram: @thesuperchatori
Snapchat: @mudrak
Zomato: @mudra
No Comments