Soorma Kunal Jai Singh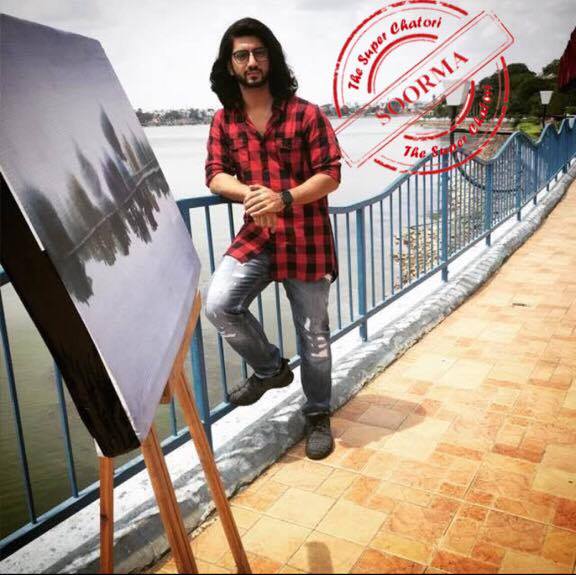 Recently, Kunal Jai Singh was in Bhopal and I went to meet him over lunch. Conversation over food ended up into more of an interview. Kunal says, he loves food and whenever he's not working, he would either catch up with friends over lunch or go to the gym. He's an absolute food lover and one can actually see him relishing his meal on his sets.
Kunal Jai Singh, who's born and brought up in Mumbai, is an actor by profession. Here's what he said about himself:
Q1: When did you know you wanted to be an actor?
A1: I think from the time I finished my studies, I was very clear that I want to be an actor. I used to do a lot of theatre and modeling, through which, I ended up working as an actor.
Q2: What is your Favorite Food Memory?
A2. I went to Australia with family and dined at an Italian restaurant. I think that was my fond food memory of sharing my meal with the people I love the most and with a scenic view of the city.
Q3: Who in the food world do you admire the most?
A3. Emmm.. I follow Master Chef India. So, Mr. Sanjeev Kapoor and all the other judges are my favourite and I admire them.
Q4: Are you a fitness enthusiast?
A4. Absolutely. If I'm not working I'll make sure that I go to the gym or do some exercise or maybe go for a run. I love a healthy lifestyle and I'm a hard core fitness freak.
Q5: Your Favorite Restaurant.
A5. The one I visited in Australia. Cannot recall the name but trust me… The food over there is heavenly.
Q6: If not an actor, what would you have been?
A6. Honestly, I haven't imagined myself in any other stream. I think I was very clear that I wanted to do into acting career. But, I haven't really imagined myself without acting. But, just in case, if I wasn't an actor maybe I would have been working in some corporate company.
Rapid Fire:
Q1: Veg or Non Veg?
A1. Emmmm I guess Veg!! Depends on the mood.
Q2: Indian or Italian?
A2. Italian on any day!! *Broad Grin*
Q3: Chai or Lassi?
A3. I like both but I prefer Chai over lassi.
Q4: Biryani or Fried Rice?
A4. Has to be Biryani. 😀
Q5: Salad or burger?
A5. Salad! People find Salads boring, but I just love Salads.
Q6: Chocolate Ganache or Gulab Jamun?
A6. Chocolate Ganache
Q7. How do you find Bhopal and its food?
A7. This is the most peaceful city I've visited in a while. People are so friendly and helpful. It's more like a hill station. In the morning, I tried this Poha Jalebi Combination which is I think is quiet famous in Bhopal. I literally loved it!
Q8. Something you wish to say about "The Super Chatori?"
A8. Well, my dear Super Chatori, thank you for an amazing lunch. This was one of the best interviews I've ever had because it wasn't boring and the conversation was more about food and not my serial. Since you mentioned about your blog, I'm glad to be a part of it and may you take your blog to newer heights. My best wishes to you.

1 Comment
Akanksha

September 16, 2016 (2:32 am)

Awesome beginning Mudra .Proud of u .Keep going.